A lady was sitting in a traffic jam with her dog, Sherman, in the car with her. Sherman, a beautiful 230 pound English Mastiff, is not just a beloved family pet, he is also a therapy dog who visits people in senior communities, home-bound people, and people with other special needs to help to lift their spirits and brighten their days. Sherman's people mom, Sherry McAllister, uses her vehicle to take Sherman to his jobs and has her cell phone number posted to the outsides of her car advertising their services. So there are Sherry and Sherman sitting in their ride, not going anywhere or doing anything when her phone rings, and as they say in the clickbait ads, what happened next is amazing…
"We were stuck in a huge traffic jam for about 15 minutes, without moving, when my phone rang. Since we obviously weren't going anywhere, I answered. On the other end of the phone was a soft-spoken man who introduced himself as, Andy."

"He explained he was a few cars back from us, and saw Sherman stick his big ol' head out the window, so he called the number on our decal (we have a huge decal on three sides of the suburban with a picture of Sherman's head, his name, and our contact number). He told us he had just returned home after a 3+ month stay in a nursing home facility. He was recovering from the most recent of multiple back surgeries."

"It's because of this stay in the nursing home and his failing health that he had to rehome his large breed dog. He is, sadly, unable to care for him any longer. This decision clearly broke his heart, as we could hear him choking up as he spoke. He asked if we could meet up sometime, so he could just pet Sherman. Of course, we told him we would love to set a time to meet up with him. He thanked us and we said our goodbyes, with a promise to set something up in the next few days.

As we sat there in traffic, I couldn't get Andy's sad voice out of my head. We decided to call him back and ask if he would like to turn off into the Wal-Mart parking lot to say, 'Hello' to Sherman real quick. We could hear his voice cracking over the phone when he said, 'Yes!'."
So, they met in the nearby parking lot, where Sherry invited Andy to meet Sherman and spend some time with him, which he did, and Sherman immediately went about giving Andy exactly what he needed: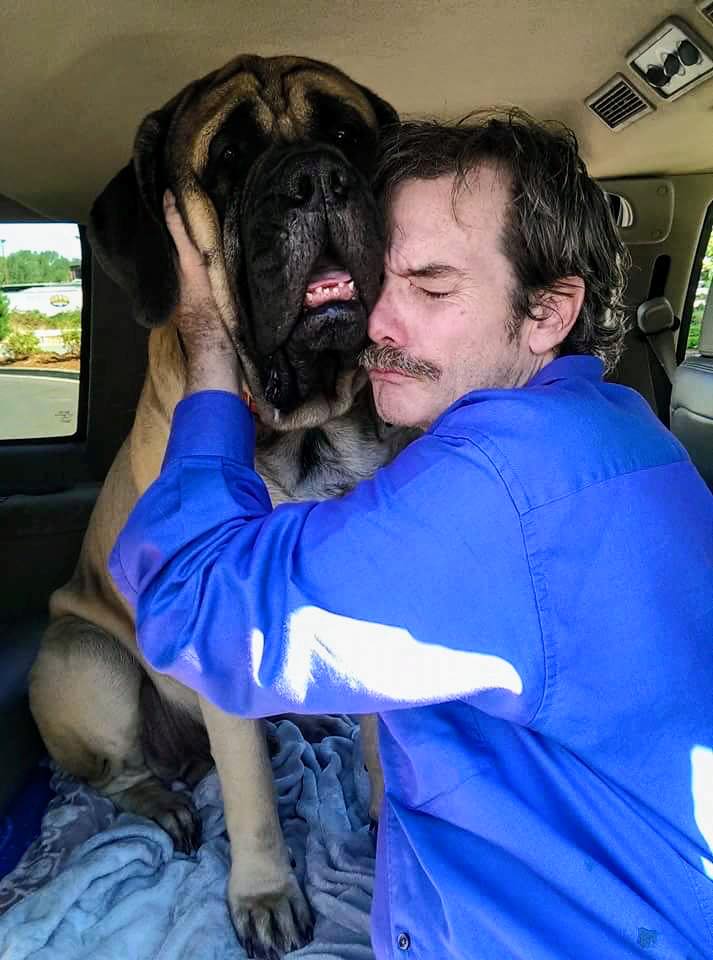 Sherman has a Facebook page, HERE.
People can be so miserable sitting in traffic, it is the sort of thing that can bring out some of our worst personality quirks, it's nice to see something GOOD come out of one! As Jerry Wilson wrote right here at Da Tech Guy Blog just yesterday, sometimes God puts us exactly where we are needed at exactly the right time. I believe this truly in my heart and I think the above story is a fine example of such divine placement (as is Jerry's story, which you should check out if you haven't already).
*******
MJ Stevenson, AKA Zilla, is best known on the web as Zilla at MareZilla.com. She lives in a woodland shack near a creek, in one of those rural parts of New York State that nobody knows or cares about, with her family and a large pack of guardian companion animals.