Readability
I've now lived through multiple government shutdowns. Each has had a different effect on me, but this last one, and the ongoing Continuing Resolution, has made the largest impact, because I currently manage almost 90 Sailors, a large inventory of equipment, and a large travel budget with Sailors deployed all over the world. I think there is a big misconception about a government shutdown. People imagine that everything just comes to a standstill, everyone just up and leaves their jobs and sits at home on their hands. Nothing could be further from the truth.
For the military, we continue to operate. We continue "operationally related" travel and functions, although that term is often left to local commanders to figure out. We don't get paid, but that really comes in to play only if the shutdown happens over the 1st or 15th of a month. Otherwise, everyone is showing up to work and doing exactly what they did the day before.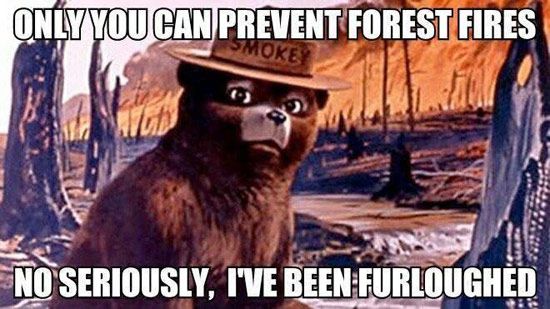 So why exactly is a short shutdown a problem? Glad you asked!
Travel gets curtailed. Non-mission essential travel is halted, and everyone comes home. That sounds odd, like, why in the heck would we have "non-mission essential" anything, especially travel? I think people envision these big conferences where Admirals and Captains are just living it up in Hawaii at some nice resort. Maybe that happens (I seriously doubt it), but for the average Sailor, non-mission essential travel includes schools, PCS orders, promotion boards, rating reviews, and lots of other things. This travel is making our future better, but because it doesn't involve killing bad guys directly, it gets tabled. In this last shutdown, I had to cut my travel short and drive home. The travel I missed will eventually get rescheduled, but at a less optimal date, and will possibly hurt other parts of my job.
It distracts commanders from their real job. My job is to execute my mission. I know my budget and I try to optimize it for the year, making the best use of the tax payer's money, taking advantage of opportunities while also budgeting for contingencies. Although I keep tabs on money, I prefer it not be my biggest concern during the day. In a Continuing Resolution, and especially in a shutdown, this changes. I have to explicitly budget for every single trip. If I get any last minute requests, I spend an inordinate amount of time contacting our comptroller and getting money moved. I feel like a slave to the phone and email, and no matter how professional or good our financial people are, there are always problems.
It gives financial people too much power. I'm lucky and have good budget people. In the past, that hasn't been true. I've had comptrollers that are borderline dysfunctional. In a Continuing Resolution, these people, and not commanders, have all the power. If they decide that there isn't budget money for travel or supplies, you fight an uphill battle. Sure, you can report them to the IG. Heck, I've done that and written to my Congresswoman in the past. But guess what? Even when it works, it is painfully slow. And remember: military personnel are in a place for 2-4 years, but civilians last (seemingly) forever.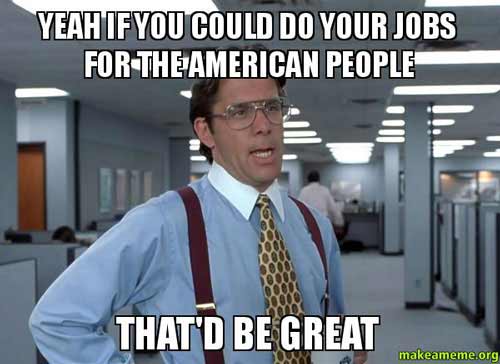 It pits service members against Congress. Every time a budget isn't passed, service members gripe about Congress. "I wish Congress would do its damn job" is a constant refrain I hear. And while I keep a tamp down on it, and tell people to let it motivate them to vote, it still sucks. It really makes service members wary of Congress, and the lack of respect that exists between the two groups continues to decline. It also doesn't help that we have less veterans in Congress.
So yeah, shutdowns suck. But they don't suck because we suddenly can't pay for ammunition. Instead, they suck because they distract us from what our real job is: protecting this great nation.
---
This post represents the views of the author and not those of the Department of Defense, Department of the Navy, or any other government agency.
Please be sure to donate to Da Tech Guy!