Readability
Note: This is a rant. Proceed accordingly.
Back in my much younger, stupider days, I sent Greenpeace a check for $25 of my hard-earned bucks. That was a couple of decades ago.
Yes, I recycle; yes, I don't waste water or electricity; yes, I owned a house in a lot that had two dozen trees (which probably more than made up for whatever fumes the house may have generated), and their leaves and branches were mulched. So much for being "green."
Vandalism is a crime.
Some vandalism is a misdemeanor. Toilet-paper a neighbor's tree on mischief night, get caught, and you'll find out what the word means.
Greenpeace, however, has engaged in felonies for the sake of publicity for years.
No, I don't buy their "sustainability", "renewability" excuses.
Greenpeace, in these days of moral equivalence, through their ends-justify-our-means methods, are descending to the levels of the Taliban.
To wit:
Back in 2001, the Taliban destroyed two ancient Buddhas at Bamiyan in Afghanistan, a World Heritage Site. The statues were over 1,500 years old:
Despite world-wide condemnation, the Taliban lined the statues with explosives and blew them up in the spring of 2001 because they considered them idols, and thus un-Islamic.
Fast-forward to this week in Peru, where Greenpeace vandals decided to post some graffiti at the Nazca Lines World Heritage Site,
The Nazca lines are huge figures depicting living creatures, stylised plants and imaginary figures scratched on the surface of the ground between 1,500 and 2,000 years ago. They are believed to have had ritual functions related to astronomy.
Take a look: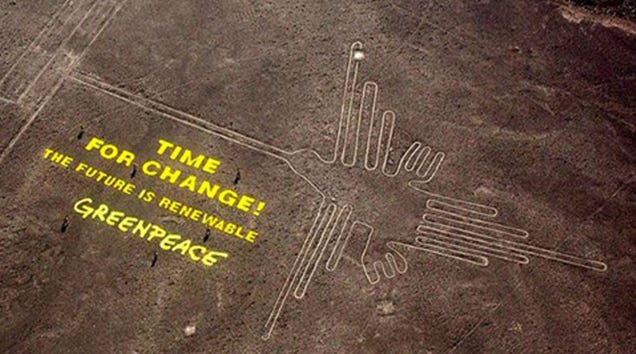 The letters are made of some kind of yellow material and were carried there on foot, and held down by rocks,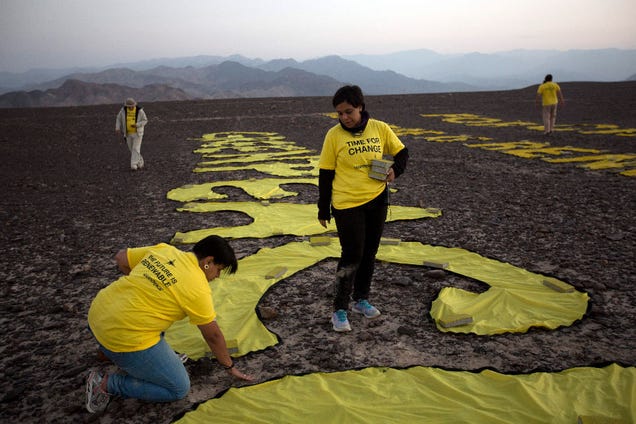 The damage caused by Greenpeace's vandalism is inestimable,
The ground around the site is so sensitive and so sacred that Peru has even forbidden presidents and top officials to walk where the Greenpeace activists went. Peru's Deputy Culture Ministertold the BBC: "You walk there, and the footprint is going to last hundreds or thousands of years." Tourists generally get to see the site from the air, or, on rare occasions, are equipped with special foot gear.

"They are absolutely fragile. They are black rocks on a white background. You walk there and the footprint is going to last hundreds or thousands of years," said the minister. "And the line that they have destroyed is the most visible and most recognized of all."
Mind you, anyone even thinking of going to the Nazca site knows you can't walk on it. Greenpeace willfully engaged in inflicting irreparable damage. In their breathtaking arrogance to say "the future is renewable", they can't see that the past is not.
What did Peru and mankind do to deserve this, in Greenpeace's eyes?
The message was intended for delegates from 190 countries at the UN climate talks being held in Lima.
Sue Greenpeace out of business in countries where you can actually enforce the judgement; ban their activites as terrorism; identify the perpetrators and put them in jail.
Enough. It's time for change: put Greenpeace out of business.
UPDATE:
Before Greenpeace: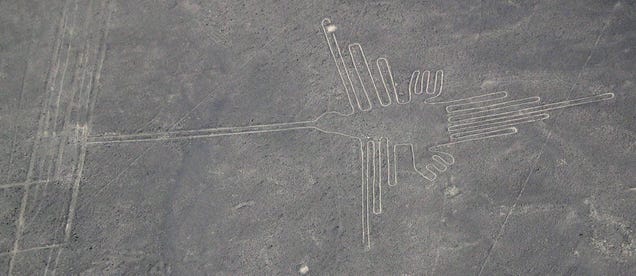 After Greenpeace: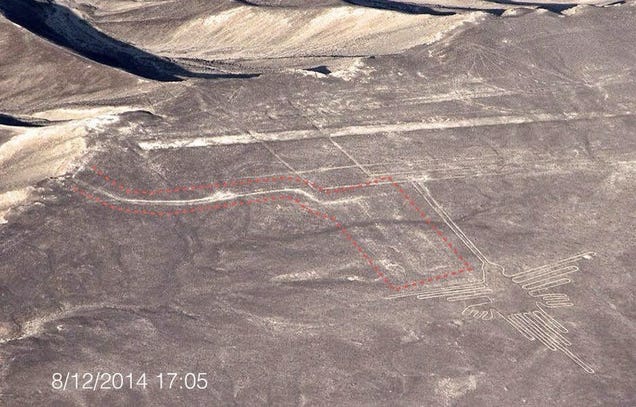 Fausta Rodriguez Wertz writes on U.S. and Latin American politics, news, and culture at Fausta's Blog.