Happy Friday! Here are some oddball things I came across, submitted for your enjoyment…
It is "spring" here in New York's Scenic Hudson Valley, but The Winter That Will Not Die rained ice chips on me while I walked the dogs yesterday and there are still mounds of unmelted snow along side driveways and parking lots in the neighborhood, but I don't think I have much to complain about because at least we are not buried in tumbleweeds like they are in Victorville, California:
High winds have left a California desert town buried in tumbleweeds. Residents of Victorville, which is northeast of Los Angeles were shocked when hundreds of tumbleweeds blew into their town, burying everything in their wake, including 150 homes. There were so many weeds that they reached the second story of some of the houses.

Video captured and posted to YouTube showed massive piles of the weeds blowing through the town, completely covering some homes as clean-up crews worked to remove the tumbleweed.   MORE
H/T iOTWReport.com
When I saw a headline earlier this week about how some human beings have a genetic mutation that allows them to remain underwater for longer than most people, I expected I'd find out that they'd grown gills, but it turns out that they have special spleens. Via National Geographic:
If you hold your breath and plunge your face into a tub of water, your body automatically triggers what's called the diving response. Your heart rate slows, your blood vessels constrict, and your spleen contracts, all reactions that help you save energy when you're low on oxygen.

Most people can hold their breath underwater for a few seconds, some for a few minutes. But a group of people called the Bajau takes free diving to the extreme, staying underwater for as long as 13 minutes at depths of around 200 feet. These nomadic people live in waters winding through the Philippines, Malaysia, and Indonesia, where they dive to hunt for fish or search for natural elements that can be used in crafts.
H/T: Instapundit
Two cops were having a rough time trying to arrest a couple of miscreants who were violently resisting. One cop was knocked unconscious, when a female off duty medical assistant came to the rescue with a BODY SLAM to one of the thugs (also a female) who was attacking the cops. The bystander turned heroine then held the crook in place until the downed officer was back up and the cops could finish  the arrest. Via FoxNews:
Officer Brian Lowenhagen and Sgt. Eric Walters were attempting to arrest the suspect, later identified as 21-year-old Jacob R. Hellenbrand, outside of a convenience store on Sunday when a woman who was with him punched Loewenhagen "numerous times," according to the police department.

As Sgt. Walters attempted to restrain the woman, identified as 21-year-old Olivia J. Boomsma, the "male was able to blade his body toward Sgt. Walters and forcefully kick Sgt. Walters on the right side of his face and head," according to the police department.

The kick was so forceful Walters lost consciousness.

Around that same time, an off-duty medical assistant who had stopped in the convenience store on her way home came to the rescue.

Divine Savior Hospital employee Vanessa Guerra ran toward the officers after she noticed Walters had fallen unconscious. As she was checking on him, the "female suspect was beginning to fight with Officer Loewenhagen again and was yelling about having a knife in her pocket," police said.

That's when Guerra "disregarded her own safety to help protect the officers," the police department explained. She "body-slammed" Boomsma against a wall and "held her there until Sgt. Walters resumed consciousness and was able to handcuff the female," the station added.

"I'm in the medical profession. When you get into that mode, you're there for your patients, you're there for the person that you see in need. And that's what you do," the medical assistant later told WKOW.

Portage Police Chief Manthey of the Portage Police Department thanked Guerra for her bravery, WKOW reported. RTWT
Dogs. They really do make everything better! Via SunnySkyz:
A group of Border Collies are having the time of their lives and they don't even realize how much they are helping the planet.

Last year, wildfires in central Chile destroyed over a million acres of forest land.

Months later, a unique team was brought in to help restore the damaged ecosystem.
A border collie named Das and her two daughters,Olivia and Summer, have been fitted with special backpacks that allow them to distribute native plant seeds throughout burned forests.
Although the task is a serious one, it's an excuse for the dogs to have fun.

"They reeeeeally love [it]!!" their owner, Francisca Torres, told Mother Nature Network. "It's a country trip, where they can run as fast as they can and have a great time."

Depending on the terrain, the four-legged trio can cover as many as 18 miles in a day and distribute more than 20 pounds of seeds.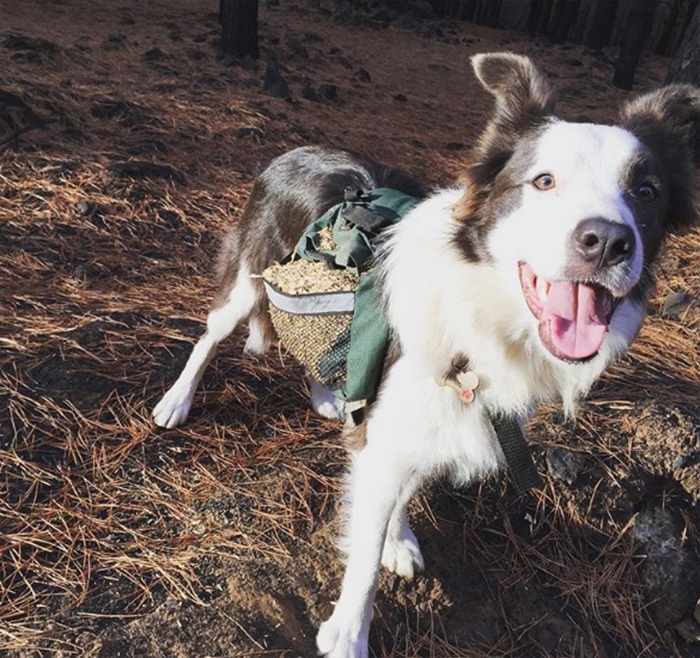 Dogs helping to reforest the forest. The longer I live, the longer I come to believe that there is little in this world that cannot be improved with dogs.
Have a nice weekend!
*******
MJ Stevenson, AKA Zilla, is best known on the web as Zilla at MareZilla.com. She lives in a woodland shack near a creek, in one of those rural parts of New York State that nobody knows or cares about, with her family and a large pack of guardian companion animals.